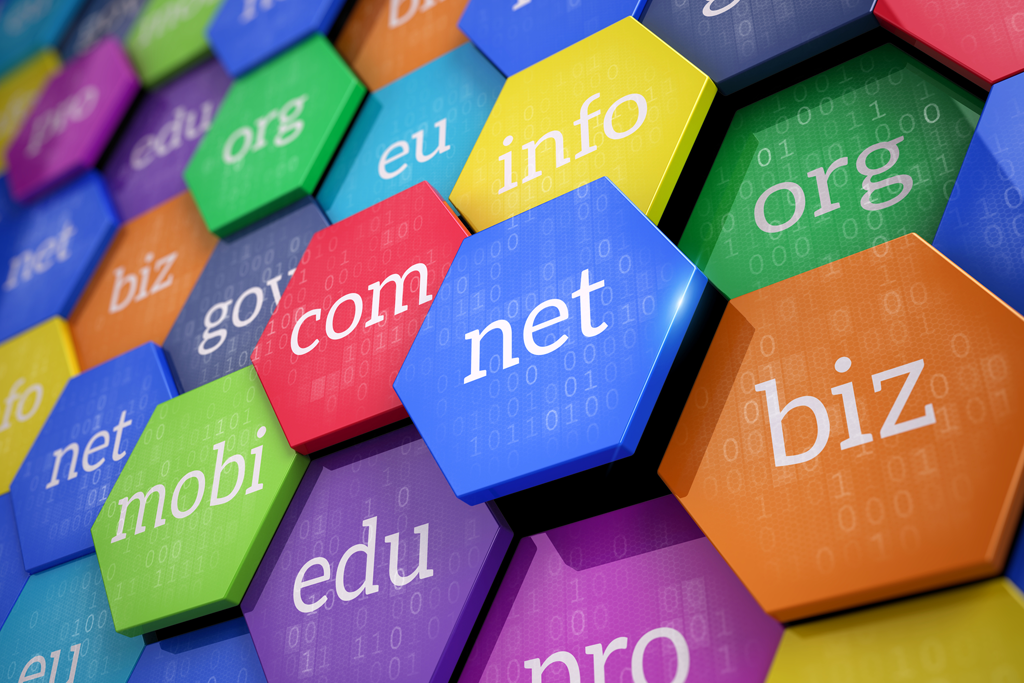 A website's domain name and extension do more than just tell users what the brand is about and its purpose. It will also communicate credibility so deciding how to name it and what domain extension to use is one of the topmost priority precedents to building the website.
Domain extensions can either categorize a website by business model, type, or location. When it aligns with your brand, it'll increase the usability of your website by conveying off the bat what they can expect when they visit the site.
The ".com" is indisputably the most popular domain extension. In many cases, as soon as you see it in the address bar, it intrinsically prompts the trustworthiness of whatever content it has. But is it always the best one to use?
With that question in mind, you might feel overwhelmed deciding which domain extension, or a top-level domain as others call it, to use. The good news is: you can take the confusion about what to use in the equation. In this post, we'll discuss 3 of the most popular top-level domains: .com, .org, and .net, and talk about when best to use each one.
By the end of this post, you'll have a clear decision about what domain extension to go for, so stick around.
What ".com" Means
The top-level domain (TLD) .com means commercial. That in itself suggests that it was originally made to host commercial entities. However, as you may have noticed, this domain extension's purpose has currently extended to other types of websites.
The .com TLD continues to be well-renowned, it's even been dubbed as the "king of domains." In fact, according to Statista, 48% of websites use .com as their domain extension. This valuable reputation makes it the most sought-after top-level domain which also implies getting your hand on a .com extension can be tricky because in most cases, it's already taken. When it's available, its value makes it too pricey.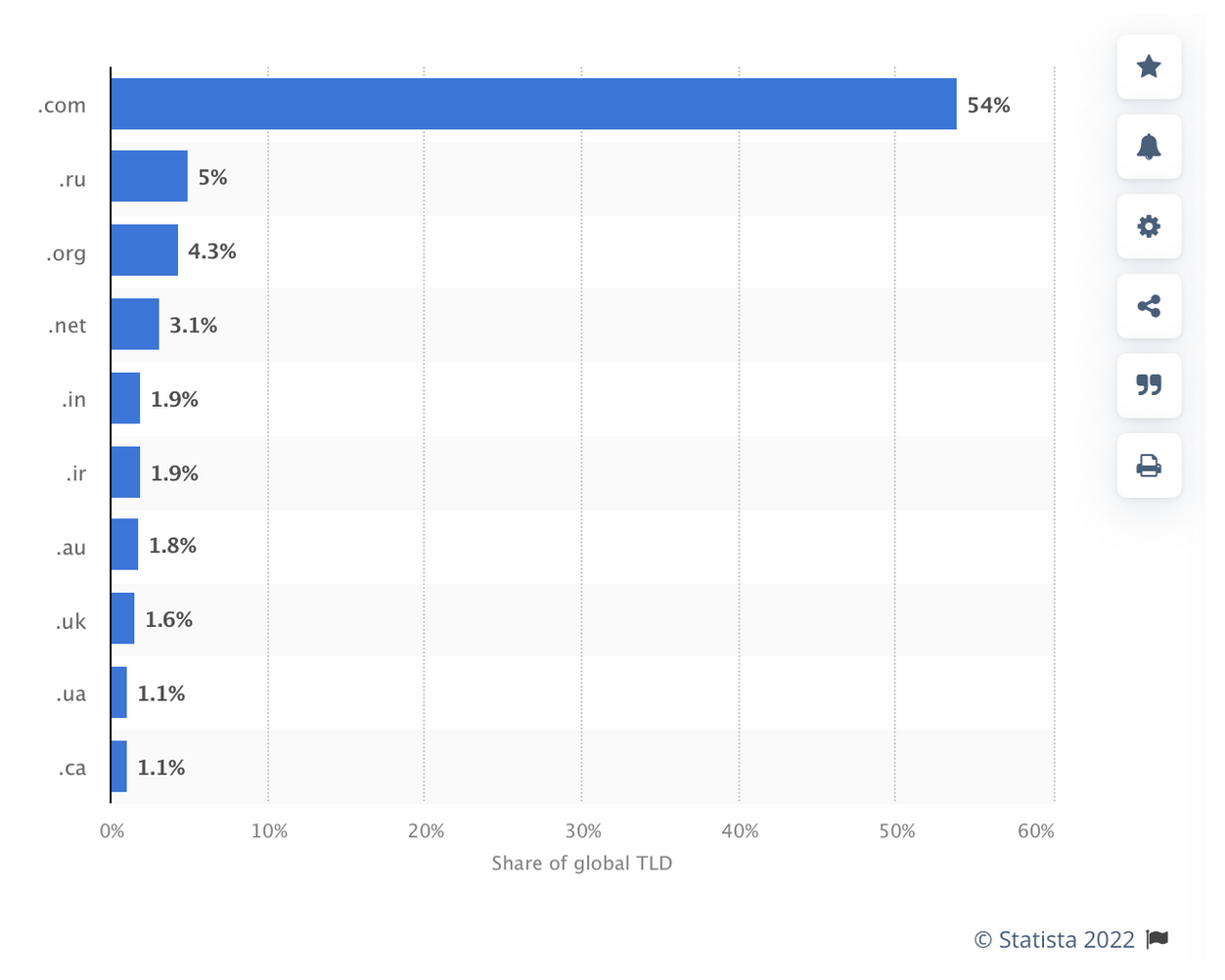 If you're determined to have a .com extension for your website, you'll have to go through a complicated process of trying out different variations of your brand name to finally come up with one that's either available or fits your budget.
Though a .com TLD can cause you some challenges along the way, it'll be worth it. Typically, $users expect a .com to be a default extension so if your website is using it, it makes recall easy for them. Meanwhile, if you use another TLD, it'll be trickier for people to find your website potentially decreasing your website traffic. It comes with instinctive credibility. People won't be as reluctant to visit your site as when you would use TLDs like .ai, .so, or .io like what Premio, a Shopify chat plugin website and this call recording software website used.
This means the domain extension you use will largely affect the traffic you can expect for your website and in turn, your marketing efforts. If you want your website to turn up on the top of search engine results pages, regardless of the country it originated in, use a .com top-level domain.
As a recap, here are the pros and cons of using a .com domain extension.
.com Pros:
Helpful for SEO and overall marketing efforts
Easy recall
Comes with instinctive credibility
Maximized potential website visitors
.com Cons:
Limited choices because of wide usage
Pricey
Longer process of coming up with a domain name that's either available or budget-friendly
Maximized potential website visitors
Now that we're covered the .com domain, let's now consider .org.
What ".org" Means
The .org extension stands for organizations and arguably offers more credibility than a .com extension. It's generally used for non-profit sites like NGOs, charities, open-source projects, alliance, art, social, cultural, and even public education platforms like public websites when they opt-out from using a .edu extension.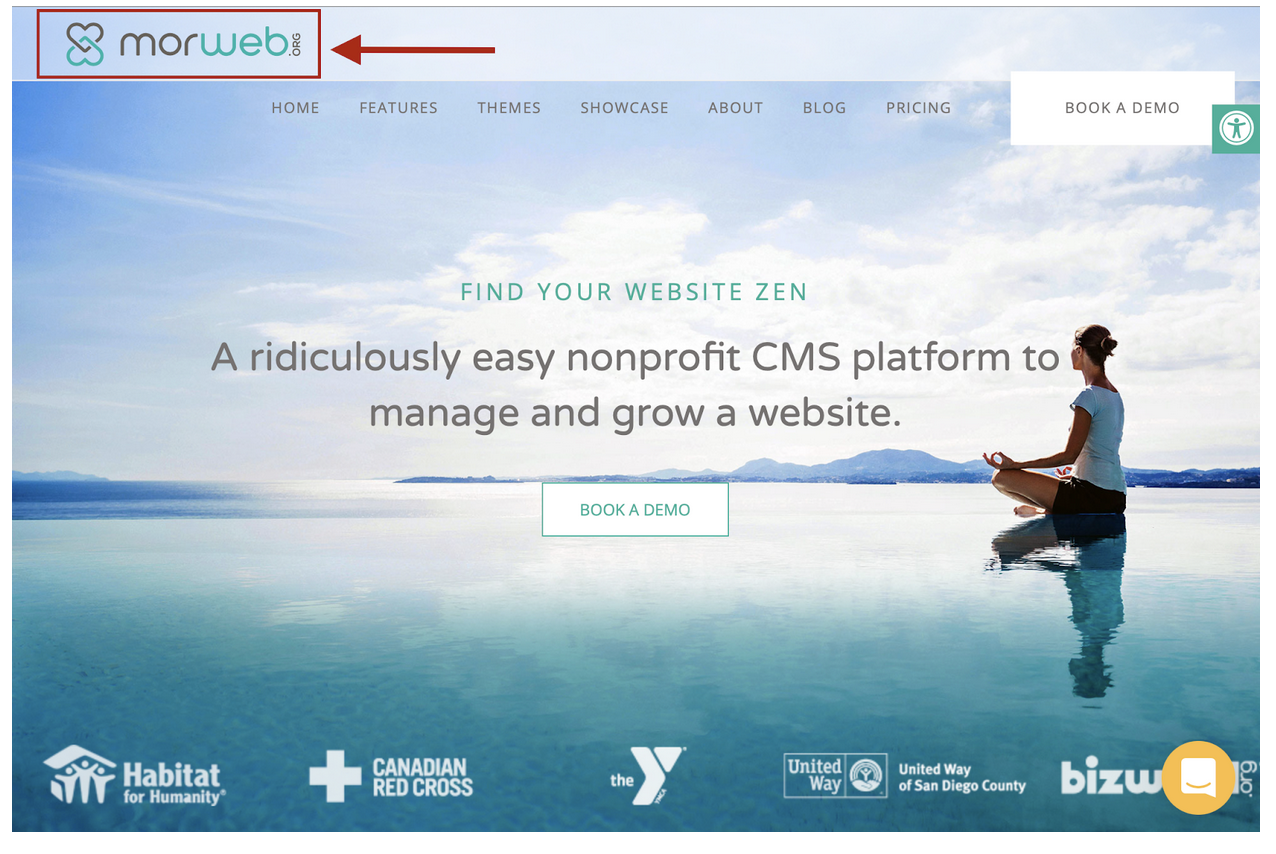 When an organization doesn't fall under the government (.gov), military (.mil), networking (.net), commercial (.com), and university (.edu) category, it's appropriate to use the .org TLD.
The .org extension was launched back in 1985 and was exclusively used for non-profit or non-commercial entities. But in 2019, the domain name registry was sold to an investment firm and since then, the exclusivity was removed. It allowed other entities that didn't strictly fall under the non-profit category to have the liberty to use it for their website. Still, the public assumption is to set in its old ways that .org sites are non-profit sites.
Keep in mind that if you choose to use a .org extension but some profit-generating transactions are operated on your website, get ready for some backlash that will ruin the inherent credibility your website initially had. While a .org extension carries a strong connotation of being an authoritative and trustworthy website, the .com extension continues to be more popular. A .org extension shows up well in search ranking but not as good as a .com does.
This also means that people will assume your website ends in a .com unless you incorporate the .org extension into your branding or company name. This becomes more advantageous if another unrelated company with the same name already owns the .com extension. It prevents your potential site visitors from showing up by accident on the latter's website and thus protects your potential site traffic.
.org Pros:
Best at establishing credibility and trust
Results in better rankings as long you don't intend to sell products and services
Easier to get the desired domain name than those with a .com extension
.org Cons:
Doesn't rank in search as good as the .com extension does
Potential traffic can accidentally show up in the same-named site but with the .com extension
Selling in .org sites can result in backlash and loss of inherent credibility
Before moving on to discuss the last domain extension, let's first establish the significant differences between a .com TLD from a .org TLD so that if you're on the fence between the two you'll be able to decide which one to use.
.com vs .org Domain Extension: Which One Should I Go For?

To put it simply, if your website is for profit, it's best to use a domain name with a .com extension. It's generally understood to be websites where revenue is generated so there's no need to explain to people that you're selling goods and services on your website. They already got that at the back of their minds.
If you are building an eCommerce store to sell sexy lingerie, fitness apparel like what Impossible offers, or anything you can think of under the sun, it's best to use a .com extension. Again, .com TLDs won't always be available, so if you can, right when you plan to start a business, consider what domain names with .com extensions are available and consider it when deciding on a business name. You can even purchase it in advance just to make sure nobody gets it ahead of you.
Another benefit of having a .com extension for your domain is that it's mobile-friendly. This means that whatever device visitors use, they can navigate and use the website with ease.
On the other hand, if the purpose of your website isn't to generate revenue but to provide public knowledge or advance a cause, a .org extension is the best one to use. Still, if you've already established a business name and the .com extension for it is already taken, another TLD you can consider in place of it is a .org.
Around 10 million .org domains have been registered, less than 5% of all the domains registered. With more chances of getting the desired domain name with it, .org rises as a preferred alternative for a .com TLD. Still, keep in mind that people expect a .org domain to be non-commercial, if you pursue using this for your business, you have to come up with a strategic marketing plan to avoid misunderstandings with site visitors that can lead to a loss of trust or you can always consider it just as a last resource.
As an example, a review site for medical alert gears offers valuable public insight on prevailing medical alert systems for the elderly. However, if they earn financially like an affiliate commission when a brand makes a sale from their review, people might look at the site in a bad light. In cases like this, disclaimers should be provided outright to prevent people from thinking they had been deceived.
However, if you think your website's purpose doesn't fit the mold of either of the two extensions, then a .net TLD might be the solution.
What .net Means
The .net domain extension refers to the network and was originally made for umbrella websites- a portal for smaller sites. It's the second most sought-after TLD but only accounts for 4% of all domains registered making it another great alternative for a .com website. One thing to note though if you take this course, make sure that the owner of the .com domain isn't in the same industry as yours, or else you'll lose your traffic and revenue to that competitor.
Currently, .net TLDs are naturally associated with tech space and web services. Some examples of these are website hosting, internet providers, CRMs, or collaboration and automation tools. Some of those in these spaces that use a .net TLD is sourcefourge.net an online code hosting site, speedtest.net an internet connection performance analysis, and behance.net, a smaller social media site for creative works connected to Adobe.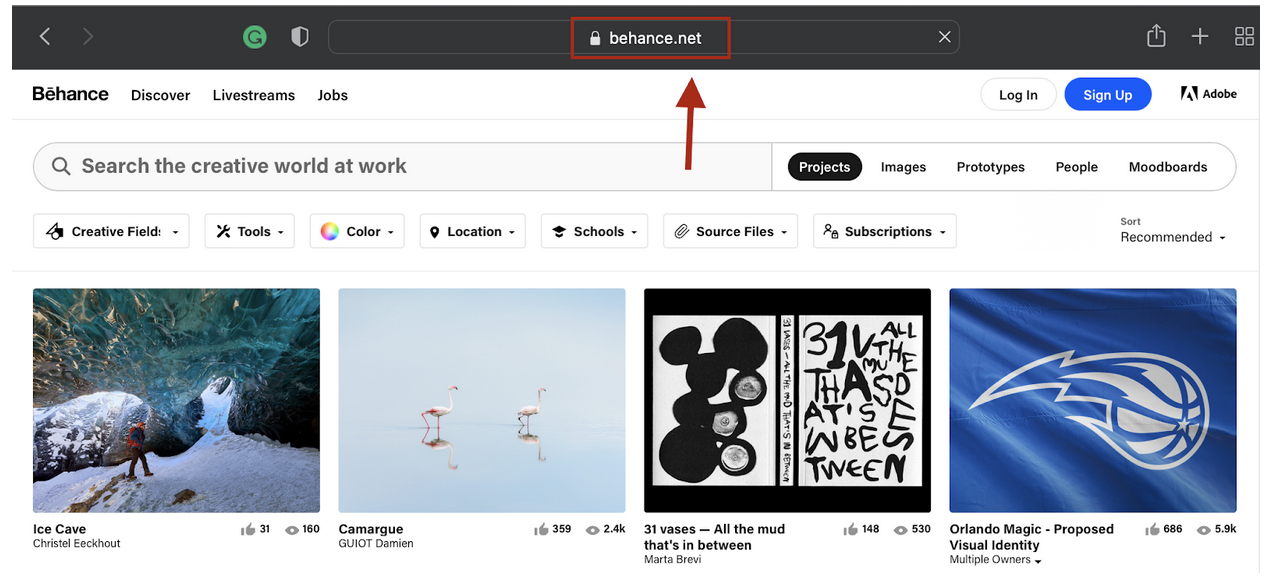 While the .com option will be more credible for your potential traffic, a .net TLD is the next best thing if a .org extension would cause misunderstandings.
In any case, you have to secure potential visitors by allowing an easy recall of the site name. Like the suggestion made for .org domains, incorporating .net in the branding will make it easier for potential visitors to remember what your website is because they'll naturally link your business name with the extension.
However, if you ever get stuck deciding whether to form a .com or a .net website, here's what can help you to decide.
.net Pros:
Higher availability
Easily recognizable with tech and web-based brands
.net Cons:
Risk losing potential traffic if the owner of the .com domain is a direct competitor
Less credible than .com
Harder recall than of .com unless incorporated in the branding
.com vs .net Domain Extensions: Which One Should I Go For?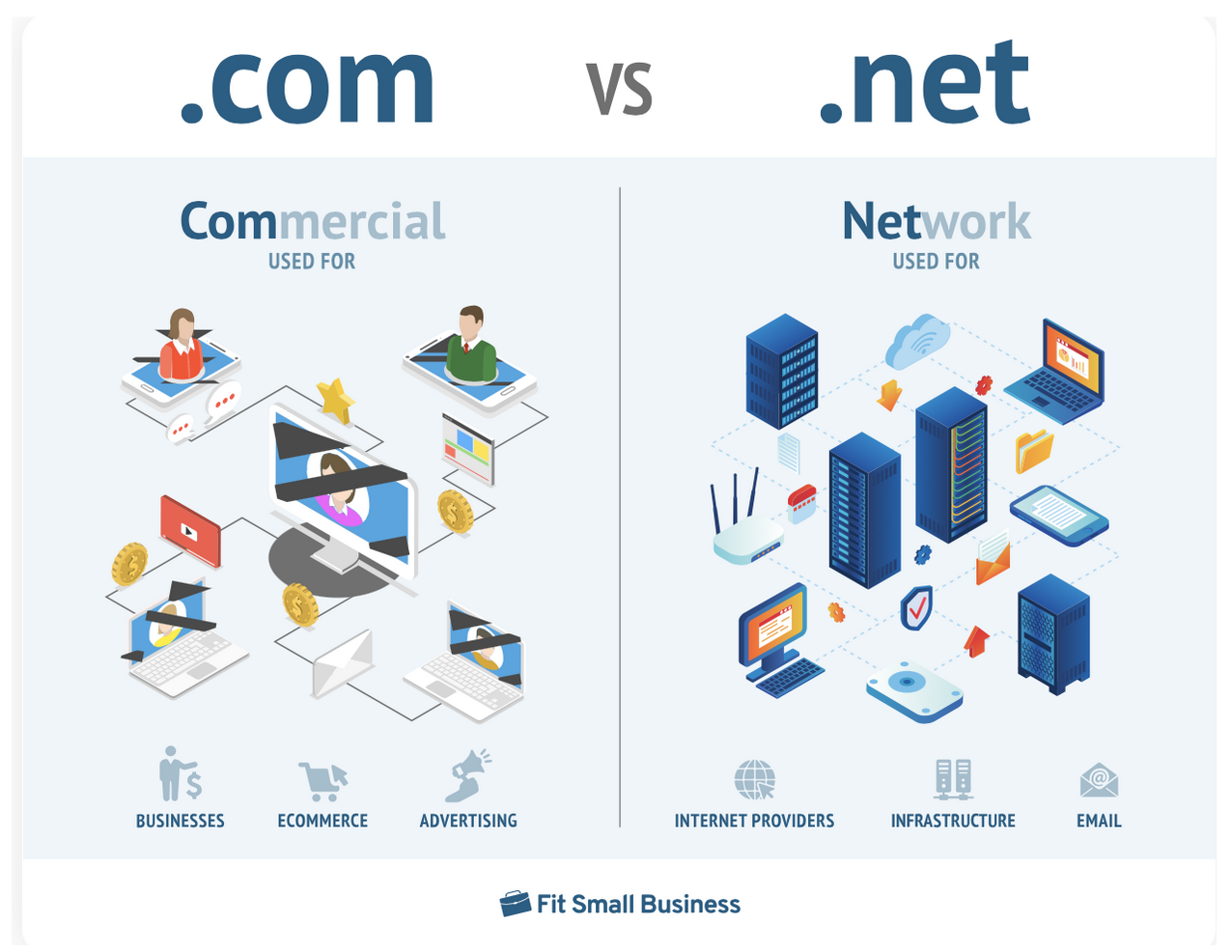 In essence, choose a .com extension when making a commercial site and choose a .net extension when creating an umbrella site for smaller sites, anything related to internet and tech-based websites, and even forums.
What if you're selling a tech software or Internet protection service given that both extensions for the same domain name are available? Which one should you go for? There's no right and wrong choice in this scenario. It depends on what you prioritize. If it's credibility, mobile-friendliness, and high traffic potential, then go for .com. But if it's instant identification of what a site is about, then you can go for .net.
Many smartphone keyboards nowadays come with a dedicated button for domain extensions, but the most common TLD there is the .com extension. This makes it easier for mobile users to find .com websites more than those with other extensions. It makes browsing sites with this extension less time-consuming compared to the others creating a better experience for the user.
Since mobile users make up more than half of the online traffic, this seemingly insignificant detail will have a substantial impact on the usability of your site and the succeeding traffic and revenue growth. You can also perform usability tests to confirm its impact.
Another option you can take is to purchase both .com and .net extensions of the same domain name. This way, you can increase your online presence. However, additional planning might be needed to determine what content to put in each to ensure there are no duplicates that Google can penalize. One example of this is if you offer multiple voices and audio services like Voices. Instead of putting all services on one website, you can offer the major service on the .com website and the minor offers on the .net website.
.com vs .org vs .net: What's Best For Which?
Your top-level domain is as important as any practice you apply in your business branding. It doesn't just affect the likelihood of users finding you online, it also affects how potential visitors perceive your brand. A mismatch has a high chance of an outright loss of credibility. Use a .org for a commercial website and visitors will feel defrauded.
With this in mind, choosing between the three domain extensions should be done right when you decide what to name your business. This will allow you more room to position your brand the way it's intended that can help radiate a cohesive online presence.
At this point, you already know what each of the three domain extensions is normally used for. Brief pros and cons of each top-level domain are also presented to help make a better gauge of what to go for. Lastly, some suggestions or workarounds are also given in case you highly prefer one domain extension over the other.
.com: for commercial, used for profit-making websites
.org: for organization, used for non-profit websites providing public information or advancing a cause
.net: for network, commonly used as an umbrella site for smaller sites or tech-related websites
If you find that the three domain extension options are too limiting or if you want to have a location-focused website to easily grab the attention of a local market, you can also consider country TLDs like:
.ru
.uk
.ir
.ua
.de
.in
.us
Bear in mind that using country-based domain extensions will mean laser-focused audiences. This means fewer chances of getting global traffic that will expand your market reach. However, this won't pose a problem if your product or service is made to cater to just specific locations and your logistics can only handle local shipping of the products.
Generally, using a less popular domain extension will affect how users will perceive your website. Still, you can leverage location-based TLDs if your country is known to deliver quality products and services in the industry you cater to.
Closing Thoughts
Your website's domain extension significantly impacts your branding, hence, as mentioned a few times by now, it should be thought of right when the business name is decided on. It's easy to choose a .com extension over the others, however, if that's not on the table, you still have the next best things to choose from.
At any rate, your chosen domain extension should communicate the purpose of your website. It provides a great user experience and more importantly, it helps build your credibility. And with your credibility intact, you can move forward and build up what you offer on your website and generate the conversions you're aiming for.
Author Bio
Burkhard Berger is the founder of Novum™. You can follow him on his journey from 0 to 100,000 monthly visitors on novumhq.com. His articles include some of the best growth hacking strategies and digital scaling tactics that he has learned from his own successes and failures.
Do follow our LinkedIn page for updates: [ Myraah IO on LinkedIn ]