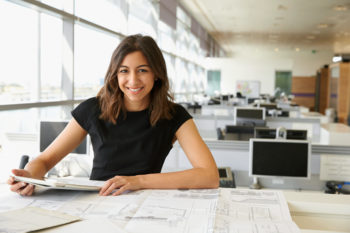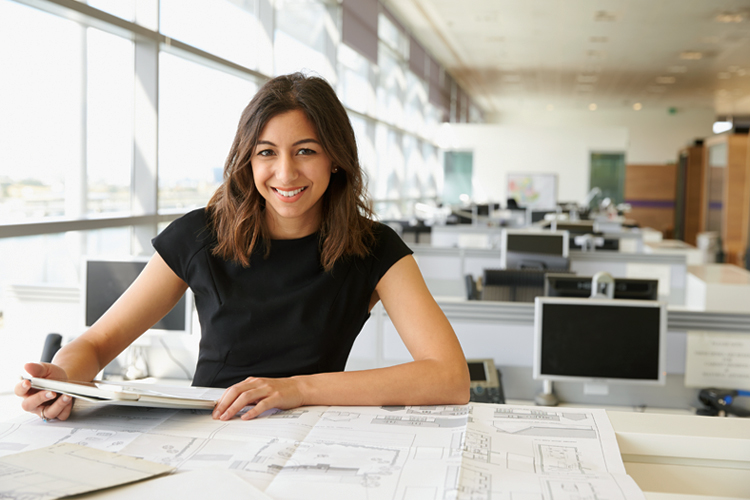 You will learn:
How to target your dream customers using targeting options available in FB
Facebook Ads best practices
– Anatomy of good Facebook post/ads
– Example of what you shouldn't be doing
– Right use of overlay text/graphics
– The Carousel ads
– The Gallery post
– Educate your customer's post
– Post offering a unique experience
– Make your customer a celebrity
– Optimize for mobile
– Comparing two ads
How to target your dream customer using Facebook powerful targeting mechanism:
Suppose, you run an interior design studio in Mumbai. And you want to target prospects in your local area.
Here is how you should go about this.
Step 1: Write down your prospects profile
Men & Women Aged 30+
Living in Mumbai
Who have interest in pages related to interior design ideas. OR have shown interest in home interior related pages.
Step 2: Set up Facebook targeting
Here is how you can do that:
Go to create a new campaign and choose campaign types as either traffic to your website or lead generation.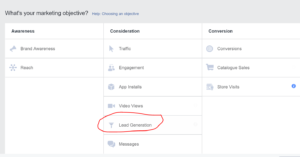 Then give a name to your campaign: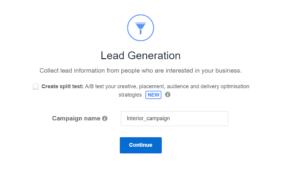 Now set the location and age restriction: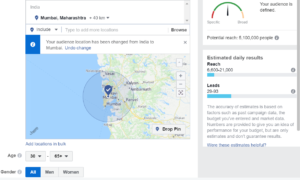 Now we have about 51 Lakh people as a possible audience.
Now set the behavior/interest restriction:

So click on include and type Home interior design, home interiors, interior design ideas and interest. As shown above.
Wow – Now we have about 69,000 people as potential reach. That's very targeted.
Best Practices 1: Anatomy of a good Facebook Ad
Now as we have our target audience identified. We need to create ads for them. Before we jump into it let me give you a simple framework for the same:
1.Headline text and image headline should be 5-6 words
2.Post text should be 15-20 words
3. Link description should be around 18 words
4. Include words: YOU, FREE, BECAUSE, NEW, INSTANT
5. Usually "Learn More" and "Sign Up" buttons generates good CTR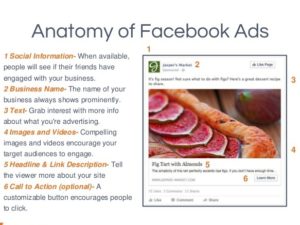 Now an example of an ad which get's it all wrong: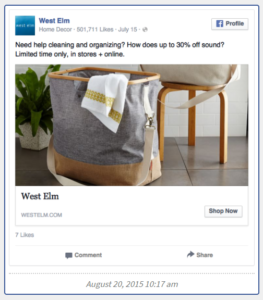 Problems with the above ad:
1. The image used is not bright and representative
2.Headline text just uses name of company. An opportunity missed to highlight their offer
3.Haven't used link description text to describe their offer
Best Practices 2: It's all about the image
Use bright and representative images in your ads. They help you get user attention in the crowded newsfeed.
The left ad in example below uses dull image while the right ad uses bright and better images. The right one will always win!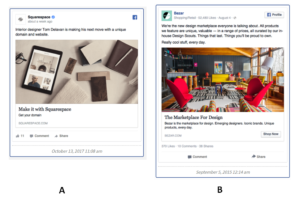 Best Practices 3: Use overlay text/graphics
Once you have nailed your ad image, next step is to add some text or graphics on top of it. It could be things like borders, ribbons, buttons, arrows or your logo. Try to use bright colours again so that it pops out to grab prospects attention.
Below are some examples from Renonation and Handy.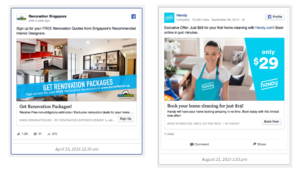 Best practices 4: Use carousel ads
Carousel ads perform better than single image ads. As they generate curiosity and also offers an opportunity to highlight more than one selling points per ad.
Some of the good examples from Elite Remodelling, Home Lane and De Style Interior: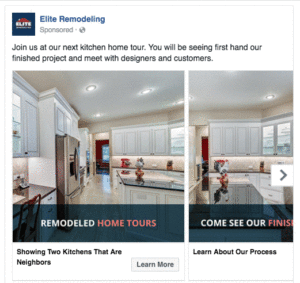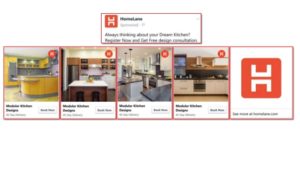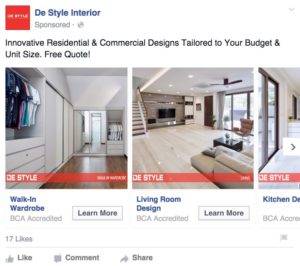 Best Practices 5: Clever use of gallery post
Gallery post allows you to highlight several images of your work in a single post. The best part is that if you put together all your best performing images in a single gallery, it will attract more likes and share. This indeed will help you reach your audience at the lowest possible cost.
See in an example below Furdo is using this post type to their advantage: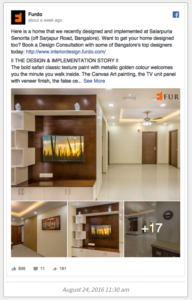 Best practices 6: Educate your customers posts
Social media is all about sharing and giving. Give before you ask.
Publish educational posts related to your business, industry and products. Guide customers in their purchase journey. This will help you establish yourself as a credible business.
And when the right time comes, business will automatically follow.
Below are example from Home Epiphany, Laurel & Wolf, Havenly and Of a Kind.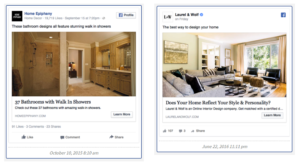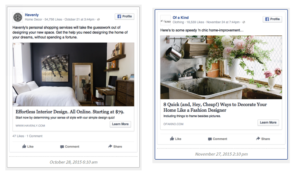 Best practices 7: Offer unique customer experience
Social media is all about experiences. Think out of the box and try to invite customers to experience your work.
By doing this you are guaranteed to get super response on social media.
Below is an excellent example from Tribeza: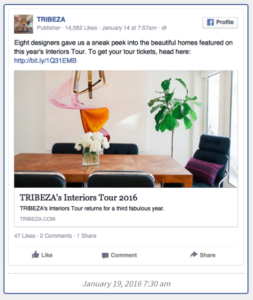 Best practises 8: Make your customers celebrity
Write about your customers and how their life improved after they used your service.
Share stories of customers.
People love it. They are able to visualise themselves achieving the same.
Below is an excellent example from Lonny: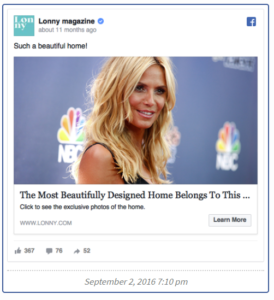 Best practises 9: Optimise for mobiles
About 70% of Facebook traffic comes through mobile devices. Ignore them at your own peril.
Always optimise your ads for mobile devices. While creating your ads always check the mobile preview and ensure that your images are showing correctly.
Below is an example from Design By Deborah: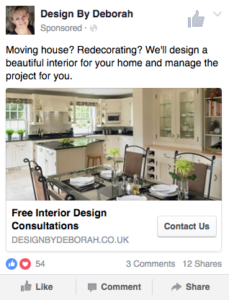 Putting it all together: Final example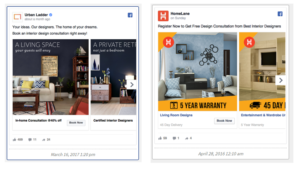 Left ad is by Urban Ladder and the right one is by HomeLane
Both of them use carousel ads ad types. The best performing ad type on Facebook.
Urban ladder ad uses dark images but still image wise able to highlight the furniture and other accessories they are selling. They should have used more vibrant image for greater results.
The Home Lane ads uses clever graphic overlays to highlight their offerings and multiple benefits such as 5 years warranty, 45 days delivery etc.
Don't wait to jump into the social media bandwagon and start getting customers.
All the best.
A detailed article about how to create your YouTube channel and get subscribers:
How to get first 1000 subscribers quickly On Youtube
Did you find this article useful? If so please LIKE by clicking the below button. Thanks a ton for Liking it!